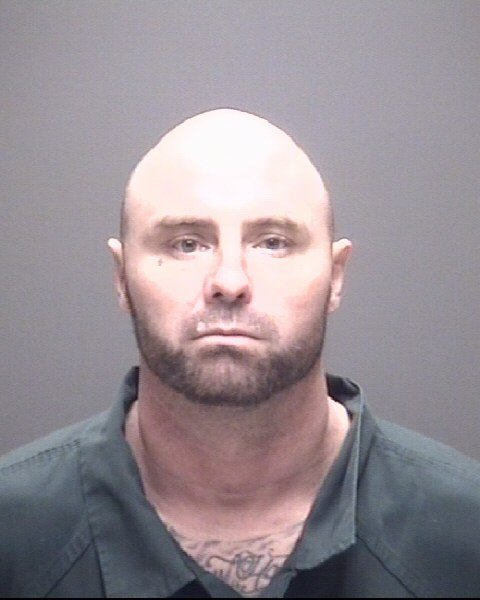 Galveston County District Attorney Jack Roady announced today that Billy Wayne Denison, 38, was sentenced yesterday to 50 years in prison for Intoxication Manslaughter.
On Monday, July 17, 2017 Denison pled guilty in the 122nd District Court and requested to have the court determine his punishment. A punishment hearing began Tuesday morning. During the three day hearing the State presented testimony and other evidence that detailed for the court the events that led to the death of Roger Reed, a Santa Fe resident, on September 26, 2015.
Galveston Police Department (GPD) officers were dispatched to major accident on the northbound lanes of the Causeway at around 1:13 am on Saturday, September 26, 2015. Upon arrival, officers found Roger Reed lying in the roadway, unconscious and bleeding. The motorcycle Reed was driving had extensive rear-end damage. Reed was transported to the hospital where he was immediately pronounced dead as a result of his injuries. Medical testimony revealed that Reed had multiple skull fractures, chest injuries, and a spinal fracture.
Officers found Denison, in his vehicle that was stopped at the bottom of the Causeway near the Tiki Island exit, drinking a bottle of Kaluha White Russian. There was also an empty bottle of Kaluha in the front cup holder and a broken bottle of Bud Light Lime on the pavement near Denison's driver door. While speaking to Denison, officers noted that he smelled strongly of alcohol, had a slurred speech, swayed, and stumbled. Dennison told a Firefighter, who was checking him for injuries, that "I was going a hundred bro. I was going a hundred." Denison admitted to hitting the motorcycle and that in addition to the alcohol found in his vehicle he had drank beer prior to driving. Officers obtained a search warrant for Denison's blood after he refused to voluntarily give a sample. Analysis on the blood sample taken was conducted by the Texas Department of Public Safety Houston Crime Lab. The results showed that Denison had a blood alcohol level of 0.137 when the sample was taken.
GPD Sergeant Robert Sanderson, the Accident Reconstructionist, determined that the victim was traveling north in the outside lane when he was struck from behind by Denison. Denison's vehicle and Reed's motorcycle were stuck together and continued traveling north for several hundred feed before the motorcycle dislodged. The impact appeared to have taken place at the top of the Causeway based on skid marks, gouge marks, and scuff marks starting there and continuing to where the motorcycle was found.
Sgt. Sanderson also testified that based on evidence at the scene, he determined that Denison appeared to continue to drive way from the based on skid marks and oil on the road beginning a short distance from the motorcycle and ending where Denison's vehicle stopped due to the damage it sustained.
The owner of the vehicle Denison was driving testified that she was a friend of Denison's and that he had taken her vehicle without her permission. This was confirmed by Denison during his own testimony. Testimony about Denison's time in prison revealed that he had a lengthy disciplinary history which included testing positive for drugs and multiple fights.
Denison faced a punishment range of 25 to 99 years, or life, in prison because of two felony enhancements; a 2003 conviction for Escape and a 2005 conviction for Burglary of a Habitation. In addition to the enhancements, the State presented multiple other felony and misdemeanor convictions. In 1998 Denison was convicted of Possession of Marijuana and Evading Arrest. In 2001 he was convicted of Driving While Intoxicated, and Failure to Appear. He was conviction in Georgia in 2002 for Driving Under the Influence. In 2003 Denison had convictions for Criminal Trespass, Resisting Arrest, Criminal Mischief, and Unauthorized Use of a Motor Vehicle. In 2005 he had convictions for Assault Causing Bodily Injury and a second conviction for Burglary of a Habitation. Lastly, in 2014 he was convicted for Reckless Driving.
During closing arguments, the State argued that since Denison turned 17 years old he has been in and out of prison and jail, doing nothing but committing crimes. Assistant District Attorney Kayla Allen told the Court to think about "how many victims have to suffer at the hands of the defendant. How much is enough." Denison has 5 felony and 10 misdemeanor convictions, many involving victims. ADA Allen argued that not only did Denison commit another victim he crime, he killed someone. The State asked the Court to sentence Denison to life in prison.
The Court took a short recess to consider the evidence and arguments before returning with a verdict of 50 years in the Institutional Division of the Texas Department of Criminal Justice. The Court also made an affirmative finding of a deadly weapon. Denison will have to serve at least one-half of his sentence before being eligible for parole.
Denison was prosecuted by Assistant District Attorneys Kayla Allen and Ross Hill in the 122nd District Court, with visiting Judge Mary Nell Crapitto presiding. The investigation was conducted by the Galveston Police Department.