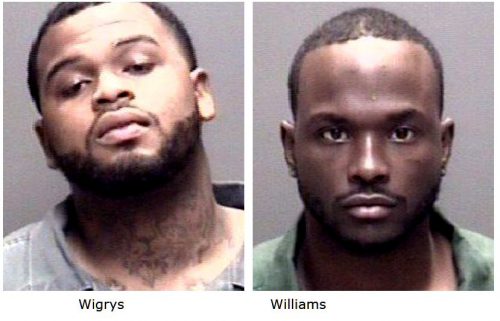 Galveston County District Attorney Jack Roady announced today that Chazz Jamikel Wigrys, 24, was sentenced to 20 years in prison for three charges of Aggravated Robbery with a Deadly Weapon and 5 years in prison for Evading in a Motor Vehicle.
On the night of December 9, 2016 Wigrys and his co-defendant, Leslie Demond Williams, committed a string of armed robberies at three convenience stores in Texas City, Galveston, and Jamaica Beach. Both Wirgrys, who drove the getaway vehicle, and Williams were arrested that night following a high speed chase along the Seawall in Galveston. Wigrys was identified as the look-out person during the robberies and Williams was the gunman. Officers found a mask in the vehicle and a bag full of money and loaded magazine near where Williams was arrested.
Wigrys who had no felony criminal history and was eligible for probation, faced a punishment range of 5 to 99 years, or life, for each of the Aggravated Robbery cases and 2 to 10 years for the Evading in a Motor Vehicle case. Today, he accepted the State's punishment offer, pled guilty to all four charges, and was sentenced to 20 years in the Institutional Division of the Texas Department of Criminal Justice. Wigrys will have to serve at least half of his sentence before being eligible for parole.
Wigrys was prosecuted by Assistant District Attorney Adam Poole in the 405th District Court, with Judge Michelle Slaughter presiding. The investigation was conducted by the Texas City Department, the Galveston Police Department, and the Jamaica Beach Police Department.
Wigrys' co-defendant, Leslie Williams, was convicted by a jury in July 2017 for three charges of Aggravated Robbery and sentenced to 99 years in prison for each charge.