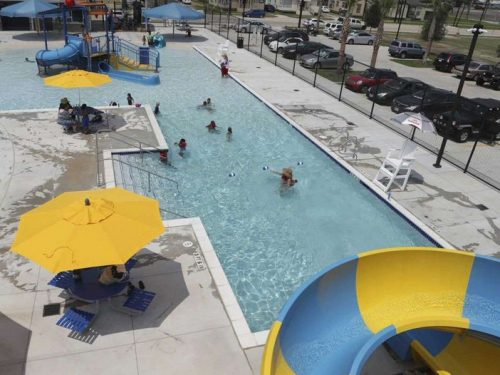 On August 15th at 11 a.m. the doors will open to the grand opening festivities for Galveston's first community swimming pool. A historic moment for the City, the $4.1 million project will provide residents with a state-of-the-art facility, which includes a recreational pool with kid-friendly play structures and a body slide, as well as an eight-lane short course yard pool for hosting swim meets.
This new addition to the Galveston Parks System will give the City the ability to provide fitness classes and swimming lessons. It will also provide the opportunity to offer community safety courses, such as first aid, CPR and lifeguard training. Funding for the project is being provided by the Industrial Development Corporation, Better Parks for Galveston, a grant from Texas Parks & Wildlife, the Neighborhood Revitalization Fund and numerous foundation grants and private donations.
"This community swimming pool shows the tenacity of the people of Galveston. They set a goal that had never been accomplished before and saw it through to completion as a team," said Mayor James D. Yarbrough. "This facility will bring joy to Galveston families for years to come."
The pool will open on Friday August 4th to public, in advance of the grand opening. During this period, entry fees to the pool will be waived while staff works to ensure that all operations run smoothly.
The pool's grand opening ceremonies will offer remarks from those who made this project possible as well as City officials, followed by a ceremonial ribbon cutting at 11:30 a.m. The festivities will also include refreshments provided by Better Parks for Galveston from Noon – 3:00 p.m