—————————————————————————————
SUNKEN SHIP – Galveston Bay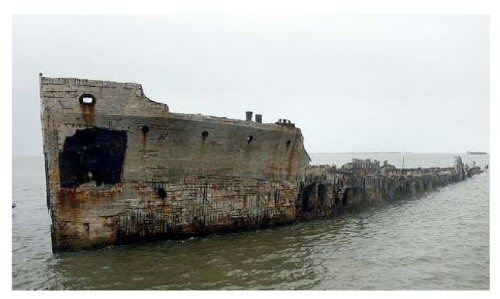 Passengers aboard the Bolivar Ferry have a pretty good view of this wrecked ship. Probably a lot of them wonder what ship it is, and how it came to be beached off  Seawolf Park.
The ship was named the SS Selma, and was christened in 1919.  At 400 feet, it was considered a very large oil tanker for that time.
Less than a year after her launch, the Selma struck a jetty and cracked open, sinking.
Perhaps a significant reason the Selma sank was because she was an experimental vessel, with a hull made of concrete. Yes, concrete was actually tried in shipbuilding.
It was also reportedly tried in airplanes, with disastrous results.
By boat, this is a great place to fish and an awesome spot for a picnic.
—————————————————————————————
HURRICANE IKE WOOD TREE SCULPTURES LIST – Galveston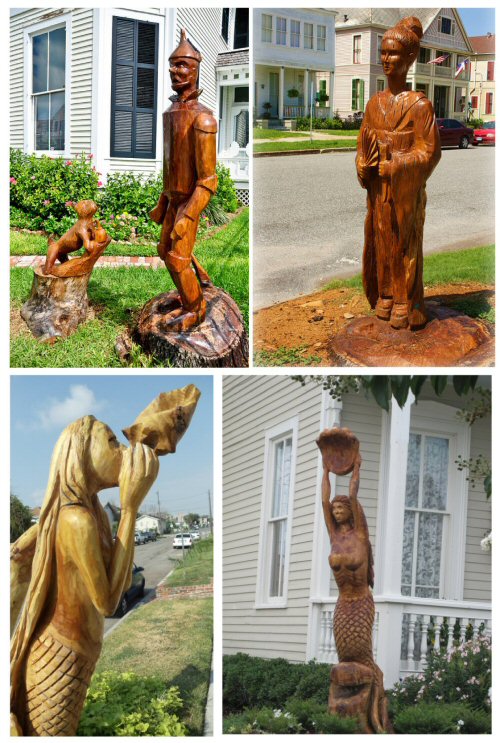 Hurricane Ike killed a lot of beautiful old trees on the Island. Local sculptors have created some magnificent works of folk art, mostly in the neighborhood east of Downtown. Here's a partial list:
Dolphin, 828 Ball (facing Ninth)
Pod of dolphins and mermaid, 902 Ball
Wildlife totem pole, 1302 Ball
Squirrel with acorn, 1302 Ball
Dolphin, eel and dorado, 1302 Ball
Owl, 1302 Ball
Two herons, 1316 Ball
Toad, 1615 Ball
Geisha, 1717 Ball
Sister angels, 1717 Ball
Monument to oak trees, 1028 Winnie
The Tin Man, 1702 Winnie
Yellow Lab Dog, 1820 Winnie
Mermaid with clam shell, 1428 Church
Pelican sitting on piling, 1618 Church
Birds of Galveston, 1620 Sealy
Great Dane, 1228 Sealy (facing 13th)
Large pelican, 1609 Post Office
Pelicans, 628 14th (behind the Café)
Angel cradling bunny, 511 17th
Dalmatian and a fireplug at City Hall outside Central Fire Station, 823 25th
Hand holding diploma at park, 718 41st
Wildlife tree inside the playground at Schreiber Park, 83rd Street near Airport
—————————————————————————————
BATTLESHIP TEXAS, LaPorte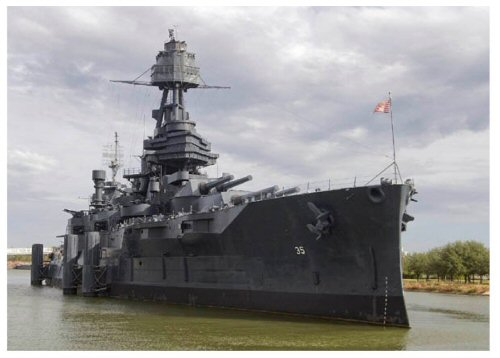 America was becoming a world power when the Battleship Texas was commissioned over 100 years ago. As a US Navy ship from 1914 to 1948, the BB-35 sailed 728,000 miles ranging north to Iceland, south to Chile, east to Italy and west to the Philippines. She passed through the Panama Canal 16 times.
She is the only surviving US Navy vessel that fought in WWI and WWII. In WWII, the Texas was the only US battleship to see combat in Europe, Africa and the Pacific.
Texas was also a test ship for naval aviation in 1919 and for the first radar, in 1939.
The ship's final active mission returned 4,267 troops from the Pacific to California in time for Christmas of 1945.
Much of the Battleship Texas is still the same today as it was in 1914.  There are tons of exhibits and historical navy memorabilia from those early days of iron ships and big guns.
The view is pretty nice as well, and there is a bar nearby.