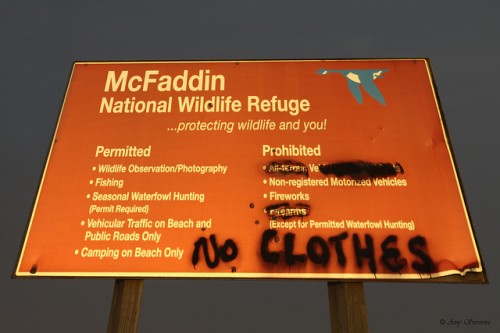 First, the back-story:
"MAY 9, 2011 Port Arthur News:
Chambers County authorities and the Texas Rangers are investigating a McFaddin Beach shooting to determine if a woman's death was a suicide or homicide.
Chambers County Deputies were dispatched to a shooting at McFaddin Beach on Texas 87 shortly before noon on Saturday, May 7, east of Texas 124 in High Island.
The shooting occurred along the one mile stretch of beach that is in Chambers County. Upon arrival, Deputies met with Galveston County authorities, who had received the initial 911 call.
According to two people in the area, they saw a black Ford four door truck driving in the area of the beach. The truck stopped for a few minutes, and then a gunshot was heard from inside the truck. A few minutes later a white male exited the truck, screaming that his wife had shot herself. The two people in the area did not witness the actual shooting, according to a press release from the Chambers County Sheriff's Office.
The victim was identified as Doris Blair, a 51-year-old white female, who lived in Magnolia, Texas. However, she had a Mississippi driver's license and family in that state.
Her husband, David Taylor, a 51-year-old white male from Magnolia, was the person with Blair at the time of the shooting, according to law enforcement. He was arrested on an unrelated warrant out of Walker County, Texas. He posted bond on the warrant the next day. Justice of the Peace Yale Devillier ordered an autopsy, but the results are pending.
Chambers County Sheriff Joe LaRive stated that his office, along with the Texas Rangers are conducting a thorough investigation into the incident to determine if this was a suicide or homicide. "It could take several days for the results of all crime scene evidence processing to be finalized."
Since then, I have found out the following:
1. Doris was planning to leave David Taylor and return to Mississippi the following Monday. He wanted her to stay, but she was steadfast. He had been physically abusive to her, and there are medical records and eyewitnesses to prove it. After meeting online, they eventually hooked up, then she came to Texas. At first things were fine, but then David starting getting "weird" according to a family member. He asked Doris to have a threesome with him and another female. He was reportedly drinking, and by one account doing some drugs as well. He sent her to the hospital once, but she later tried to cover for him. This relationship had turned bitter and angry on both sides, and a crash was coming.
2. Taylor told police he had no idea where the gun used in the shooting came from. "I never saw that gun before in my life." When I interviewed him, I asked "Do you know where she got the gun?" and he immediately told me he couldn't talk anymore and hung up. Well, as it turns out, the gun was reported stolen several years ago in a break-in one night up in a small east Texas town.  Coincidentally, Taylor was arrested in that same town on the same night the burglary went down. Did David Taylor steal that pistol, then use it on Doris? Or, did Doris, who had never been to Texas, come over from Mississippi one night and steal a pistol, six years ago, on the same night David Taylor was busted in the same town. Hmmm…
3. David planned the trip to the beach to try to reconcile things with Doris. But he took her to the wrong beach. Doris was a religious, old-fashioned kind of girl, and he took her to the "swingers beach" at High Island. When they got there late Friday, according to Taylor himself and another source he spoke with, they mixed up some drinks and set up camp. Soon they had a couple of topless lesbians walk up and initiate a conversation, which Taylor seemed to think was all good. But Doris didn't swing that way, and she wanted to be elsewhere. She copped an attitude.
So when bedtime came around, she slept on the ground in the tent, and David slept in the truck.
She was apparently more intent than ever on leaving him. The next morning she was dead.
4. Police have lost track of the two witnesses, but according to the police report, it was "several minutes" after the shot was heard that Taylor suddenly burst out of his truck, frantically screaming that Doris had shot herself. Why the long delay? Was he staging the scene? Wiping the gun? Disposing of evidence? Trying to come up with a story? Making sure she was dead? "Several minutes" is an awful long time when a person has just pulled out a gun and shot themselves.
5. Two months after the crime, family members came to Texas to say prayers at the murder scene. Guess what they found? Clothing and insurance papers that belonged to Doris Blair, inside a plastic bag, along with a sinister pair of rubber gloves. So apparently, Chambers County didn't do a very good job of processing the crime scene. Did they even test Taylor or his for gunshot residue? Probably not.
The only conclusion I can draw from this story is: If I ever decide to kill someone, I'm going to do it in Chambers County. That way I don't have to worry about cops, forensics, and prisons.  (GATOR)