His real name was Aaron Thibodeaux Walker. The nickname "T-Bone" is a bastardization of his middle name. He was born in Linden, Texas in 1910, and died in 1975. Walker was the first guitar player ever to play behind his head while doing splits, play with his teeth, etc.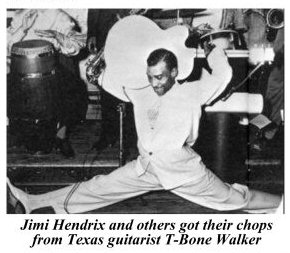 His shows were often populated with musicians wanting to learn his methods. He was a "guitar player's guitar player" and a great entertainer as well. He played gigs at now-defunct clubs all over Texas, including Galveston during the high-stakes gambling era.
Suffice it to say that Walker is the inventor of modern electric lead guitar. He was the first to amplify smoking guitar lead solos for public consumption, as early as 1940, and thus initiated a revolution so total that it has become universal.
BB King called him his primary influence. Gatemouth Brown, Pee Wee Crayton, Goree Carter, Pete Mayes, and other Texas guitars followed in his wake during the 40's and 50's. The lead guitar work invented and performed by early Texas guitarists became the basis for what we now call classic rock. Easily the earliest and most innovative of them all was T Bone Walker. He could sing, dance (he was paid to dance professionally in Hollywood in the 1930s), and play. He composed music regularly on various instruments.
It seemed to come natural, they say. His stepfather, Marco Washington, played bass fiddle with the Dallas String Band, and T-Bone followed his stepdad's example by learning every stringed instrument he could lay his talented hands on. One notable visitor to the band's jam sessions was the legendary Blind Lemon Jefferson. During the early '20s, Walker led the sightless guitarist from bar to bar as the older man played for tips. Jefferson would "work it" with the guitar for drinks, while T-Bone "worked it" with the ladies.
Walker was exposed to some truly outstanding guitar talent during his formative years: In addition to Jefferson, jazz great Charlie Christian was one of his regular playing partners.
In 1929, T-Bone recorded his first record, a 78 rpm for Columbia, "Wichita Falls Blues", backed by "Trinity River Blues,"
The sessions were recorded in Dallas, and Walker was billed as Oak Cliff T-Bone. Pianist Douglas Fernell was his musical partner for the disc. Unfortunately, it didn't sell many copies.
T-Bone headed to Los Angeles during the mid-'30s, where he bummed around with various groups. Around 1939, he concocted an electric guitar and amp setup, an unheard-of device. It was built out of old radio parts, and produced an eerie sound that no one had yet heard. T-Bone played clubs with his daring new toy after assembling his own small 5 piece combo. His show featured acrobatic stage moves, playing behind his back, and other crowd-pleasers.
The show was a sensation, and booking agents in southern California couldn't get enough of the talented Texan and his brand new style. He was widely copied by competitors.
Capitol Records was a small label in 1942, when Walker signed on and cut "Mean Old World" and "I Got a Break Baby" with boogie master Freddie Slack hammering the 88s. This was the first sign of the T-Bone Walker that electric guitar aficionados know, his fluid, elegant riffs and mellow, burnished vocals set a standard that all generations of electric guitar soloists would measure themselves by.
Chicago's Rhumboogie Club served as Walker's home away from home for a few years. He even cut a few sides for the joint's house label in 1945 under the direction of pianist Marl Young. Walker signed with L.A.-based Black & White Records in 1946 and proceeded to amass a stunning legacy.  The immortal "Call It Stormy Monday (But Tuesday Is Just as Bad)" was the product of a 1947 Black & White date with Teddy Buckner on trumpet and invaluable pianist Lloyd Glenn in the backing quintet. Many of T-Bone's finest recordings were smoky after-hours blues, though an occasional up-tempo entry – "T-Bone Jumps Again," a storming instrumental from the same date, for example, prove that he wasn't just first – he was also one of the fastest guitarists, and would be considered so even by today's standards.
Walker recorded prolifically, with classics like the often-covered "T-Bone Shuffle", "West Side Baby", "Glamour Girl", "Strollin' with Bones", "The Hustle Is On," "Cold Cold Feeling," "Blue Mood," "Vida Lee" (named for his wife), "Party Girl," and, from a 1952 New Orleans jaunt, "Railroad Station Blues". For a dozen years he produced hit after hit. Then, suddenly, the hits stopped coming. The Elvis/Beatles era seemed to derail his career.
With his stage antics and persona, T-Bone never had trouble getting gigs. People who attended his shows always left talking about how great he was. He liked to chase women, but couldn't do so at home under his wife's watchful eye, so he gladly toured a lot from 1960-74, playing a lot of $500 club dates (I hasten to add, that was good money in those days.)
Good Feelin', a 1970 release on Polydor, won a Grammy for the guitarist, though it doesn't rank with his best efforts. A five-song appearance on a 1973 set for Reprise, Very Rare, was also a disappointment. Persistent ulcers and a 1974 stroke slowed Walker's career to a crawl, and he passed away in 1975.
No amount of writing can convey the importance of what T-Bone Walker gave to blues and rock guitar players. He was the first true lead guitarist, and he was also undeniably one of the very best.  He was the first lead guitarist to put on a show that left crowds awed and amazed.