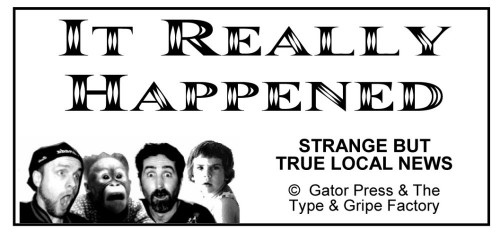 Kemah Collector Obtains Historic Pair Of Pants
A pair of pants once owned by a nephew of Howard Hughes has been purchased on eBay by a Kemah collector.
Fred Elliman has one of the largest trouser collections in the greater Houston area, including a pair of Bermuda shorts worn by Rodney Dangerfield, and a pair of yellow spandex bicycle shorts that once belonged to John Travolta.
The Hughes pants reportedly had been owned by Rodney Hughes, a distant relative of the legendary recluse who died in 1977.
They are size 38 x 31 gray flannel, made by Wolf Brothers of Miami, Florida.
The winning bid was $67.00 including shipping. "It's a bargain" Elliman said, noting that similar items can go as high as $2,500 and more. "I'm looking forward to displaying them, once they've been cleaned."
The pants may have sold for a lower price because they are somewhat soiled, with what appears to be rather large "skid marks."
Son Sues His Own Momma Over Lotto Winnings
A League City woman who won $3 million in the lottery last year is being sued in Superior Court by her son, who claims he is entitled to some of her winnings.
Jeannie Rabble, 53, was working as a part-time pet nanny last September when she found out that she had picked the winning numbers in the state lotto.
Mrs. Rabble did not move out of her trailer or buy a new car with the winnings.  According to court papers filed by the plaintiff in the lawsuit, she bought a diamond encrusted gold crack pipe and started smoking the drug all day and night.  She even neglected buying groceries and stopped doing laundry.
Luther Rabble, Jeannie's 22 year-old son, says that he tried to help his mother manage her money, but quit after she hit him with an aluminum baseball bat and threatened him with a shotgun.
In the lawsuit, Luther seeks to be compensated for the work he did in trying to get her affairs in order.  He is also asking the court to declare Jeannie Rabble incompetent, and make him the trustee of her money.
In a telephone interview, Jeannie denies most of what her son says in the lawsuit.  She claims the device referred to as a crack pipe is actually an incense burner, and that her son is simply trying to steal her money. "I did nail that little bastard with a ball-bat, that part is true" she said.
The case will be heard in the fall.
Helium-Filled Bounce House Shot Down By Air Force Drone
Kirby Burby thought he had a great idea for his daughter's 11th birthday party in Alvin last month: Rent a bounce house, then fill it with helium instead of plain old air.
"I figured it might try to float off, so I tied it down to some yard furniture and filled it up." he said afterwards, "Then it took off, chairs and all, straight up into the sky."
Luckily, no one was inside when the liftoff occurred.  The floating collection of objects was detected about 30 minutes later by the radars located at Ellington Field, and a drone was scrambled to identify the object.
Lieutenant Ken Fogelman operated the MQ-1B Predator drone which was launched to intercept and identify.
"As soon ad I got a good look at it on the screen, I knew exactly what it was," Fogelman said, "and since it presented a navigation hazard, I blasted the shit out of it."
The rental agency has charged Burby $4,000 in replacement costs, and he may also receive a fine up to $25,000 from the FAA.