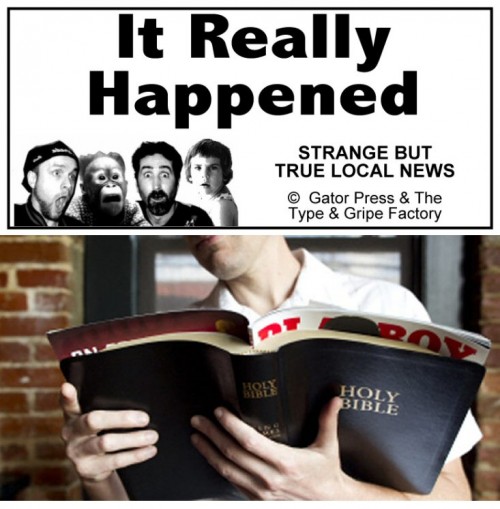 So-called Christian Pornography Makes Internet Debut
It was bound to happen sooner or later. So-called "Christian pornography" has appeared on the internet, via websites like the one at www.christianporno.com
A disclaimer on the site explains that there is no Biblical prohibition against pornography, however, Christian pornography should only present sex acts between married couples and only for the purpose of procreation.
The missionary position is preferred.
However, the site does contain a great amount of material documenting sinful types of behavior, such as "Jezebel and her lovers", "Sodom and Gomorrah" and "David and Bathsheba taking a bath".
Because these are referenced in the Bible, their depictions are approved for Christian viewing by most clergymen.
"This will be a great resource to God-fearing men everywhere" said Joel Edward Hallinger, a retired Presbyterian janitor who dabbles in amateur sociology. "No more guilt trips for these sexually-repressed insecure guys I call 'Yuckies', which stands for Young Urban Christian Know-it-alls."
Not all evangelicals are comfortable with Christian pornography, however. Some have even associated it with their nemesis, Satan – also called the Prince of Darkness.
"I think the problem is that by allowing this type of behavior, we are legitimizing the kind of exploitation depicted." according to Pastor Billy Swagger of the Interdenominational House of Pancakes. "Before I can advise my parishioners to visit this site, I will have to examine it carefully, to ensure that nobody else is taking advantage of my sheep."
The site was founded and is operated by Ken O'Keeno, a former Methbyterian Priest from Frog Pond, Louisiana. O'Keeno considers the site to be his ministry, and only keeps for himself any cash the site generates.
Prisoner Execution at Halftime Show is Big Hit for Cowboys Fans
Marking the Cowboys' season opener against the Giants in traditional fashion, Dallas fans last month were reportedly treated to a thrilling halftime show that featured the execution of a Texas state prisoner from Death Row.
"That was the best halftime show I've seen in years – there was this awesome light show with Toby Keith's 'American Ride' playing while a priest administered the last rites," said Cowboys fan Bill Maxwell, adding that he especially liked when Cowboys cheerleaders formed the shape of a skull around the stage and performed an elaborate dance routine before the convicted felon was injected with a lethal dose of pentobarbital.
"My favorite part was when he finally went limp and all those fireworks shot up from the top of the stadium. I just wish I were one of those lucky people on the field who got to watch it close-up" Maxwell said.
Delighted fans also told reporters that the halftime execution was far better than any other such event at Texas Stadium, noting that the view of the inmate's last breath was much better on the venue's state-of-the-art 72-foot-tall LED jumbotron scoreboard.
The prisoner executed during the football game was 41 year-old Luther Rabble of Pork County. Rabble was convicted of murder for his role in the grisly slaying of 67 year-old ice cream salesman Mickey House. Although Rabble was not the trigger man in the robbery or homicide, he assisted gunman Bug Pence by allowing Pence to bum a cigarette and a light from him in the weeks before the crime.
His last words were reportedly "Oh shit."