Using the newest kind of scientific profiling methods, agents with the FBI in Washington told local police and family last month that a Galveston child missing for over ten years is most likely now working as a prostitute.
The bureau also released a picture created by the bureau's new age-progression technology department, depicting what the 19 year-old Tiffany Goatler might look like today.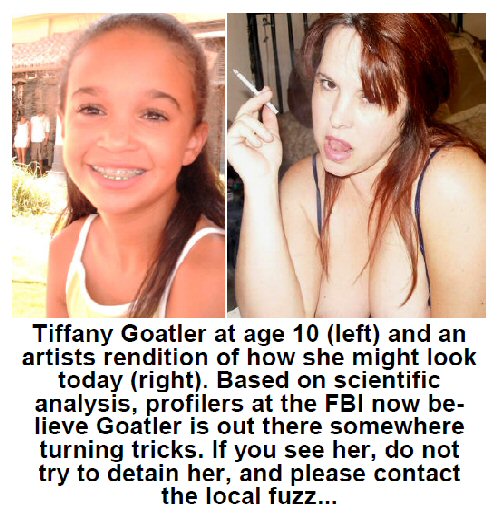 It was ten years ago in August when police theorize that a carnival worker swiped the nine-year-old from a baby carriage at the 2003 Angleton World's Fair & Hog Calling Championship. The child's parents (who have since divorced, remarried others, then divorced again, and are now making plans to remarry and divorce each other) left the stroller parked nearby while they rode the Ferris wheel. When the ride was over, the child was gone.
The mother, 28 year-old Dedra Wampole, immediately notified a security guard. Through a misunderstanding, Dedra was briefly detained and strip-searched by several security guards.
Meanwhile her then-husband, 44 year-old Chuck Wampole, had no idea where his wife and child had gone, and rushed home to print flyers on his MacIntosh computer.
The next day, authorities in Angleton released Mrs. Wampole and the parents sprang into action. Tiffany was listed by local police as a suspected runaway, and her room was rented out. Everyone expected the case would soon be solved. But investigators had few clues, and the case went cold.
Early this year, a new cold case detective was hired by the Angleton Police, Lt. Gordy McGuiness. He reopened the investigation and took forensic samples from all of the residents of Angleton, hoping that DNA would help track down the victim.
The list of suspects started in the thousands, but has since been narrowed down to several hundred.
The Angleton Police Department requested help from FBI Forensic Proctologist Bernard Wiggins Jr., who last month announced his findings. Wiggins says that his scientific analysis indicates that Tiffany is probably still alive, and is employed in an urban setting as a prostitute, and likely to be addicted to crack or crystal meth.
Police hope the sketch of how she might look today will generate leads that can help them solve the mysterious case.