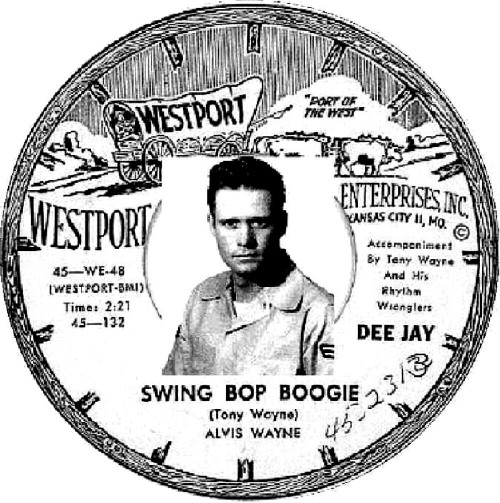 Alvis Wayne Samford was born in Puduka, Texas on New Year's Eve of 1937 to Alva and Nona Samford. He was the oldest of five children.
Music was to become an important part of Alvis' life. He pulled corn all summer on his aunt and uncle's farm to earn enough money for his first guitar. Alvis was ten years old when his aunt ordered him one from the Sears & Roebuck Catalogue for $18.98. He taught himself how to play. The first song he knew all the chords to was 'Goodnight Irene'.
Soon, in the evening and on weekends, Alvis was performing in honky tonks and nightclubs for little more than beer money when local musician Tony Wayne (no relation) approached him about being front man. Tony had a group called the Rhythm Wranglers.
Alvis told me in an interview several years ago "My mom and dad were not very happy about me going out on the road, but I had an opportunity to do so with a band, which was the only thing I ever wanted to do. They weren't happy at all and we talked about it for several days but I just had to go, and they eventually went along with it all and didn't hold me back."
Alvis's first record was pressed at King Records in Cincinnati in both 45 and 78 rpm formats. Despite frequent local airplay it never really got mush play outside of the southeast Texas area, selling probably no more than two thousand copies. Two months later he returned to the studio for his second session. 'Don't Mean Maybe Baby / I'd Rather Be With You' was to be Alvis's biggest record. Released in late 1957, it contained some great vocal work  as well as inspired guitar and piano work. His early work had a great influence on other artists.
But the record was not a giant hit, and Alvis had to earn a living. He soon got married, started a family and enlisted in the Air Force. By the mid sixties Alvis had settled down in Bacliff and was working for Braniff Airlines. His music seemed forgotten.
Then, in 1974, Rollin Rock Records sought out Alvis Wayne. He recorded three new sides just singing and accompanying himself on guitar. It was a hit in England. Rollin Rock Records then bought out Alvis entire collection of singles to compile an album. As the rockabilly revival gathered momentum in the late 70s, many of the pioneers like Alvis were rediscovered.
"If I could go back and change anything I would never have got married the first time and I wouldn't have had to worry about all that family stuff I gave up my music for, and I just might have made it. But I just couldn't keep my self from falling in love." (Alvis says his first wife cut up all of his scrapbooks, which were full of photos, newspaper articles etc.)
In September 1994, Perry Williamson of 'Pink & Black Records' fame decided that one of his newest ventures would be to issue an Alvis Wayne album, something that had never been done before. With the help of Ronny Weiser and John Beecher, the LP collected together all of his Westport and Rollin' Rock material.
Alvis had become the subject of a cult following in the United Kingdom, where his singles were in great demand. When he finally went there to appear live, a sold out crowd of 40,000 Londoners attended. He was greeted at Heathrow airport by thousands of fans, and quickly ushered into a cream-white limousine.
Later that year, he was inducted into the Rockabilly Hall Of Fame.
It was as famous as he would ever be.
Alvis Wayne settled in Bacliff, Texas, where he was a popular member of the Fraternal Order Of Eagles, and served at various times as Trustee, President, and Treasurer. He also hosted jam sessions there that were sometimes magical events, featuring some of the best talent in this part of Texas. He passed away on July 31, 2013 at the age of 75 at his home in Bacliff.
His influence lives on in younger musicians who learned from his licks.
(GATOR)