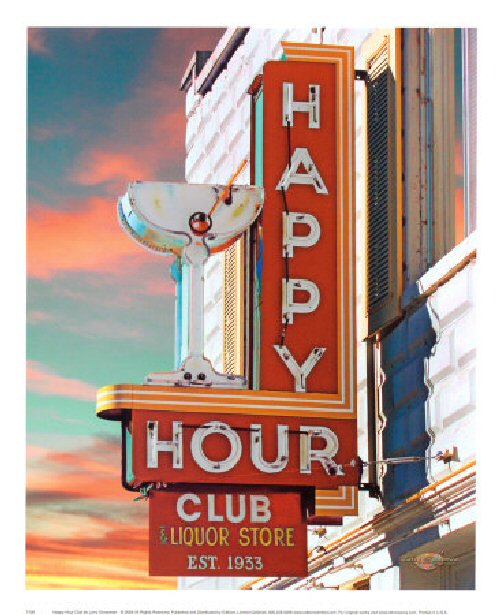 Nobody should be allowed to use the term "Happy Hour" unless they serve booze.
It pisses me off to see a daycare center with a "happy hour" sign – unless they're willing to serve up some liquor to the parents, in which case I'd be more inclined to allow it.
Taco Bell, that authentic taste of Old Mexico, has now introduced "happy hour" – I'm not sure what it is, but you can bet your ass there's no alcohol involved.
Starbucks now has a happy hour. But they still don't serve any kind of booze.  There are an untold number of restaurants which advertise their version of happy hour, with not one drop of John Barleycorn on the premises.
So how in the Sam Hell can they call it happy hour, when there isn't anything happy about it? Happy Hour with no liquor is like sex without the girl; a bank account with no money; Stevie Ray without his guitar.  It's going to be a pretty lame happy hour without the juice, is it not?
The phrase "Happy Hour" was first created by sailors in the British Navy. For one hour a day before "taps" sent them to their bunks, the sailors would get their ration of grog and have a little drinking party on the main deck.
It was always about the grog., and skippers who didn't give out the sauce didn't have any happy hours, just a gang of sullen angry guys with bad attitudes. Can you blame them?
There are even churches with happy hours now.  One advertises this: "Our Happy Hour gatherings include informal networking time and an opportunity to relax after the work day."
First and fucking foremost, it's hard to relax inside of a church. Next you've got all of these bastards trying to "network" with you. That's gotta be as bad as a swarm of angry mosquitoes. And finally, there's no booze.
Why would you willfully and intentionally subject yourself to such torment?
I guarantee you, I could do a lot better at "informal networking" – if I cared to do so – at any neighborhood watering hole.  The glow of cocktails lubricates the process, making it easy to make connections.
As for relaxing after the work day, that just ain't going to happen at church. How am I supposed to relax, when lightning from heaven may strike me dead at any moment?
Oh sure, lightning can theoretically strike me down at the corner pub, but have you ever seen it happen? I haven't.
All of these phony happy hours irritate me. It makes me want to walk in the place and order a shot of Bombay Sapphire. "Calling Dr. Bombay, come in Dr. Bombay…"
Another baronym (bar word) that's being misappropriated is "shot" – as in, "gimme another shot of that rotgut horsekiller whiskey."
These days, you can get a "shot" of energy drink, juice, coffee, and yogurt.  None of them have a trace of alcohol in them.
Is nothing sacred anymore? Will "happy hour" degenerate into some stupid fucking Walt Disney family-friendly hour of spending money without relaxing?  How can a tradition so pure and good be abducted by the soul-less corporate automatons who scrabble over your last twenty bucks?
If I ever decide to have a "happy hour" at my printing shop, there will be plenty of booze and mixers. That's what happy hour means.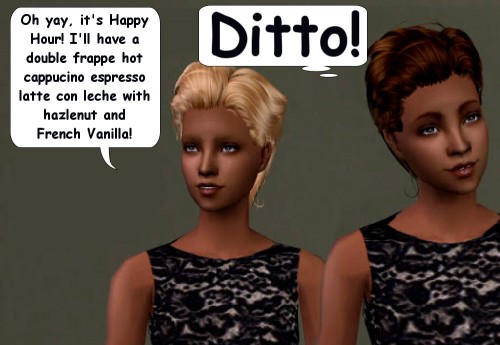 Some of you ignorant Yankee yuppies out there might go down to the smoothie shop at happy hour and do a couple of shots of some fruity boozeless cocktail.
Then you can get up on your hind legs and pretend like you're supposed to be a real man.
I'll be keeping it real, Happy Hour that is, down at the local bar…
(GATOR)