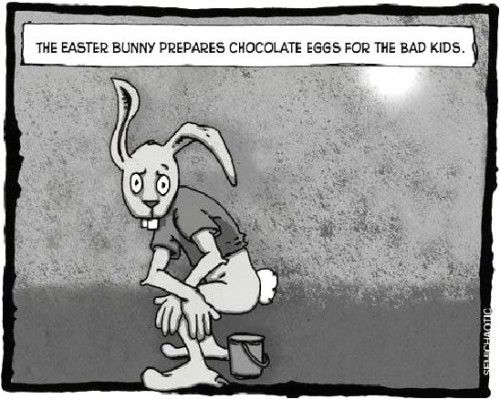 A wife was in bed with her lover when she heard her husband's key in the door.
"Stay where you are," she said. "He's so drunk he won't even notice you're in bed with me." Sure enough, the husband lurched into bed none the wiser, but a few minutes later, through a drunken haze, he saw six feet sticking out at the end of the bed.
He turned to his wife with a puzzled look: "Hey, there are six feet in this bed. There should only be four. What's going on?"
"Nonsense," said the wife. "You're so drunk you miscounted. Get out of bed and try again. You can see better from over there." The husband climbed out of bed and counted. "One, two, three, four. I'll be damned, you're right, you know."
After a long night buying a hot chick drinks, Joe took advantage by giving her a ride home.
After the walk to the door, the woman asked Joe in for a nightcap…
One thing led to another and before you know it, Joe was naked.
After making great love Joe rolled over, pulled out a cigarette from his jeans and searched for his lighter.
Unable to find it, Joe asked the girl if she had one at hand.
"There might be some matches in the top drawer.", she said. He opened the drawer of the bedside table and found a box of matches sitting neatly on top of a framed picture of another man. Naturally, Joe began to worry.
"Is this your husband?" he inquired nervously.
"No, silly," she replied, snuggling up to him.
"Your boyfriend then?" he asked.
"No, not at all," she said, nibbling away at his ear.
"Well, who is he then?" demanded Joe bewildered.
Calmly, the girl replied, "That's me before the operation."
A blonde went to her doctor complaining about pain in all her joints. The Doctor went through a whole series of tests and couldn't find anything wrong with her.
After he had explained this to her he said: "There has to be something else, have you recently changed anything in your lifestyle"?
She said, "Well, the only thing I know of is that I started making love Doggie Style, could that be causing it"?
The Doctor said, "Maybe, why don't you stop it and see if you improve"?
She said, "I can't stop, that's the only way my dog knows how to do it".
A guy is sitting at a bar when he sees this gorgeous woman waiting for her date.
He decides to go over and put the move on her.
'I think you're wasting your time, I'm only interested in women' said the woman.
'Oh come on, I bet I can change your mind' said the guy. After ten minutes of the guy pestering her, she finally had enough.
'OK' said the woman 'I'll sleep with you if you can do anything for me that my vibrator can't!'
'OK, bartender get this lady a drink' he said. 'let's see your vibrator do that?'
Little Red Riding Hood is skipping down the road when she sees the Big Bad Wolf crouched down behind a log.
"My, what big eyes you have, Mr. Wolf," says Little Red Riding Hood.
The surprised wolf jumps up and runs away.
Further down the road Little Red Riding Hood sees the wolf again; this time he is crouched behind a tree stump.
"My, what big ears you have Mr. Wolf," says Little Red Riding Hood.
Again the foiled wolf jumps up and runs away.
About 2 miles down the road, Little Red Riding Hood sees the wolf again, this time crouched down behind a road sign.
"My, what big teeth you have Mr. Wolf," taunts Little Red Riding Hood.
With that the Big Bad Wolf jumps up and screams,
"Will you get lost kid? I'm trying to take a shit!"
A young woman in the sleazy part of old Galveston was so  depressed that she decided to end her life by throwing herself into the  harbor. She went down to the docks and was about to leap into  the water when a handsome young sailor saw her tottering on the edge of  the pier. He took pity on her and said, "Look, you have so much to  live for. I'm off to Europe in the morning and if you like, I can stow you away on my ship. I'll take good care of you and bring you food every day." Moving closer, he slipped his arm around her shoulder and added, I'll keep you happy, and you'll keep me happy." The girl nodded yes.  After all, what did she have to lose? Perhaps a fresh start in Europe would  give her life new meaning.
That night, the sailor brought her aboard and  hid her in a lifeboat. From then on, every night he brought her a sandwich and a piece of fruit, and they made passionate love until  dawn.
Three weeks later, during a routine inspection, she  was discovered by the captain.
"What are you doing here?" he asked. "I've got an arrangement with one of the sailors," she explained.  "I get food and a free trip to Europe , and he's screwing me."
"He sure the hell  is," the captain said. "This is the Bolivar  Ferry…"

March 31, 2013 ·

Gator ·

Comments Closed


Posted in: All posts, Articles, Humor
Click images to view full size.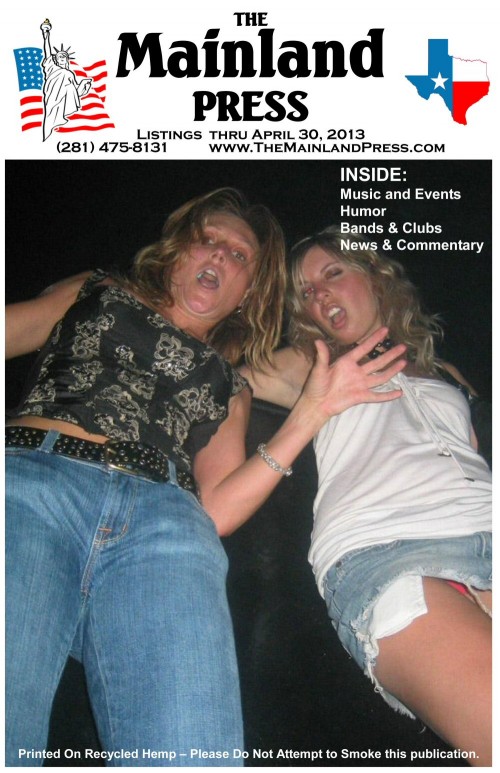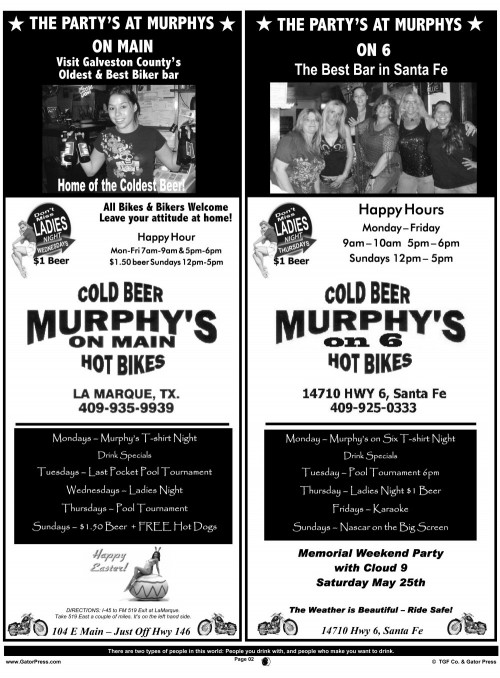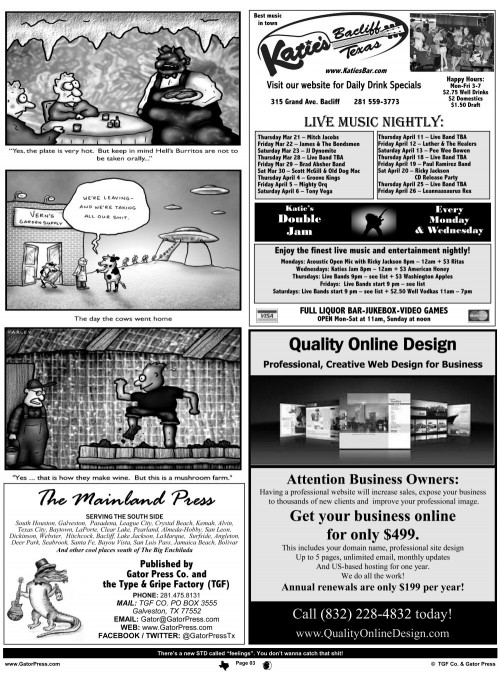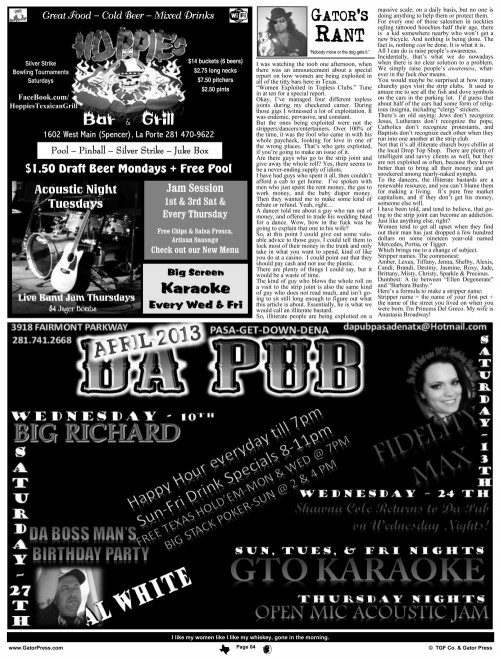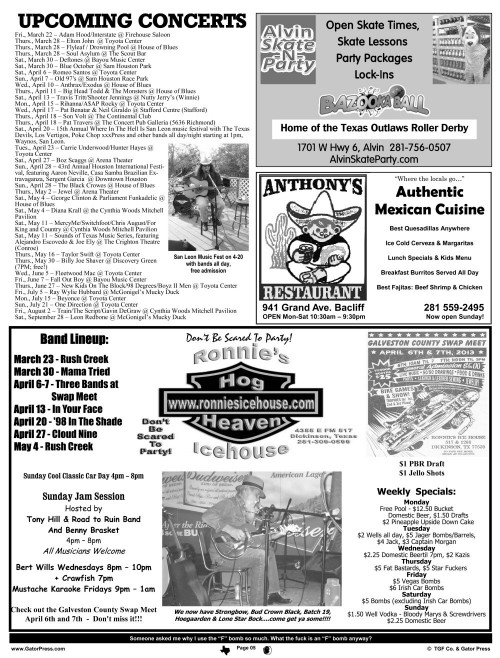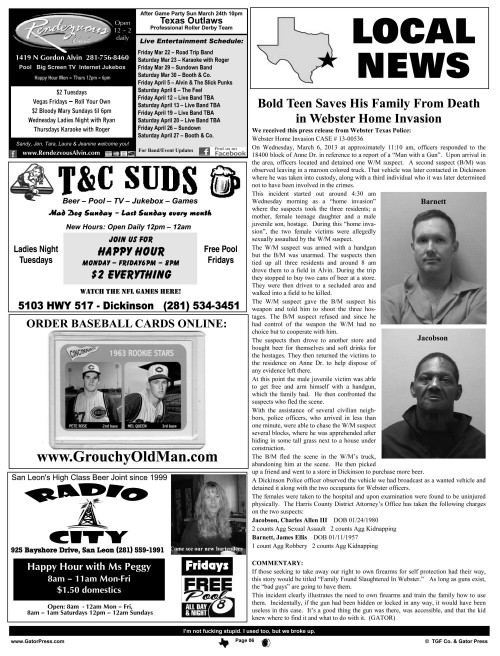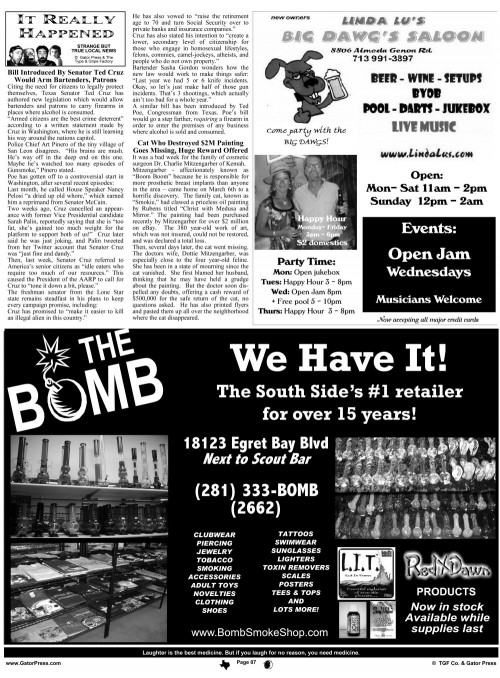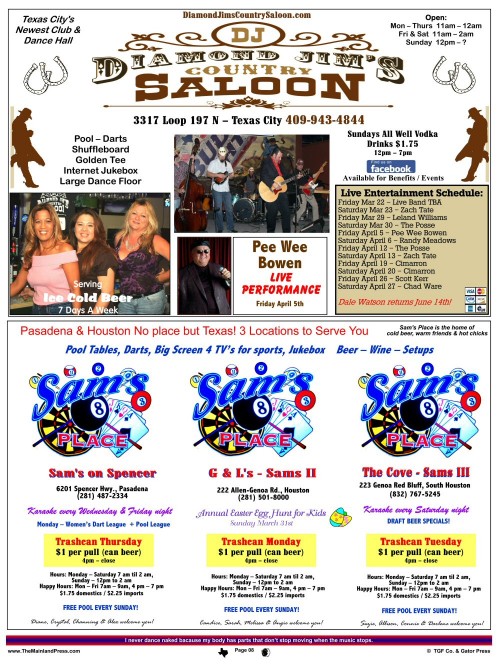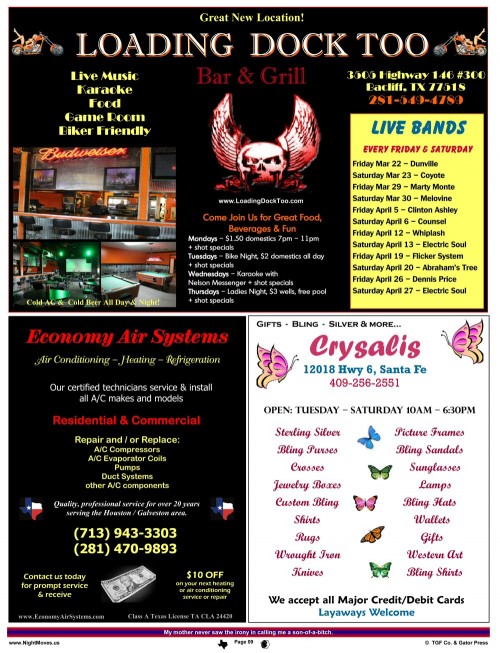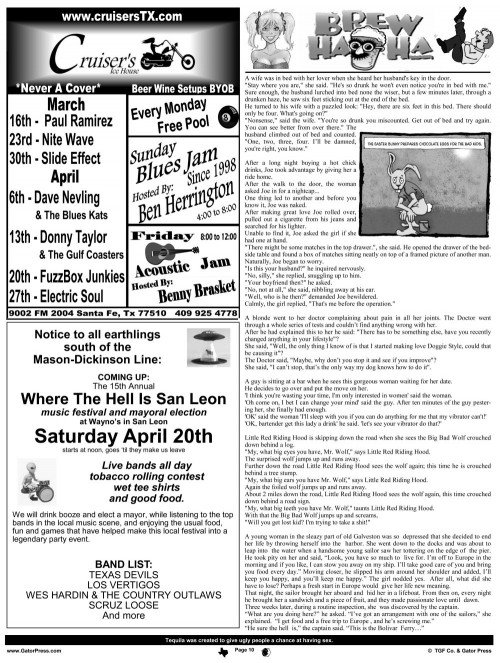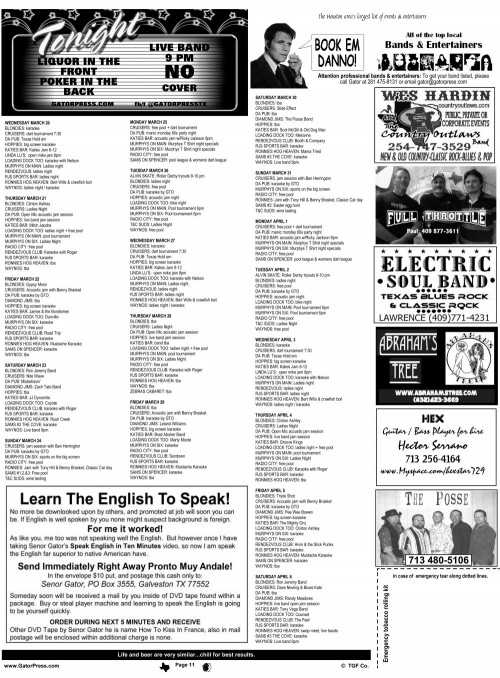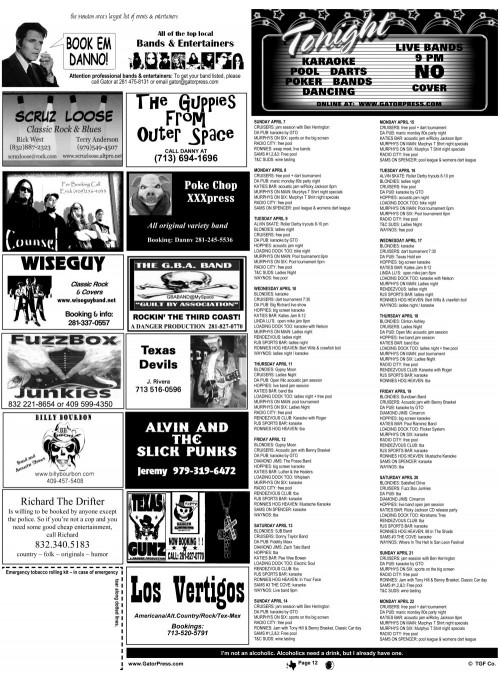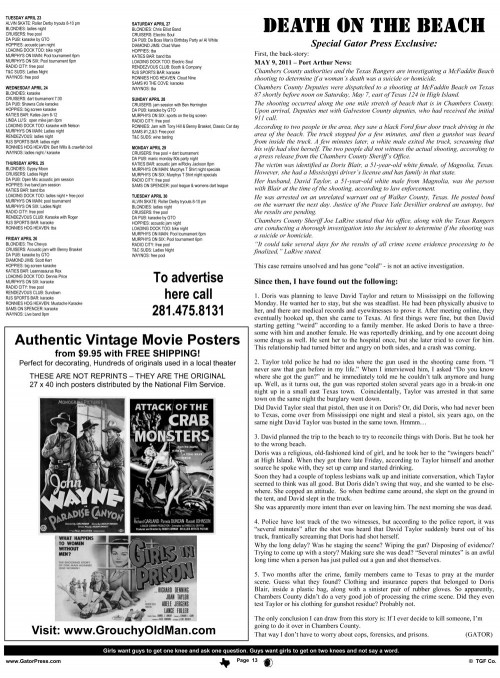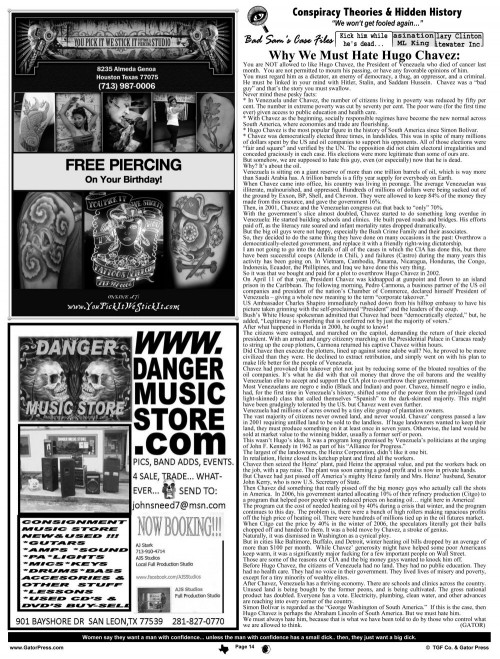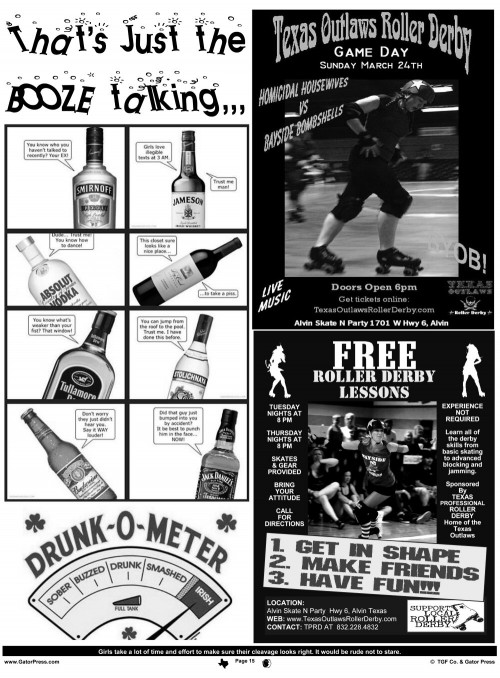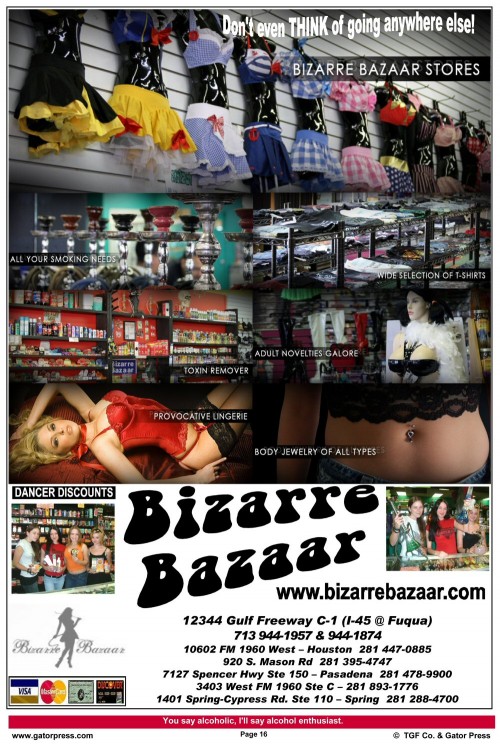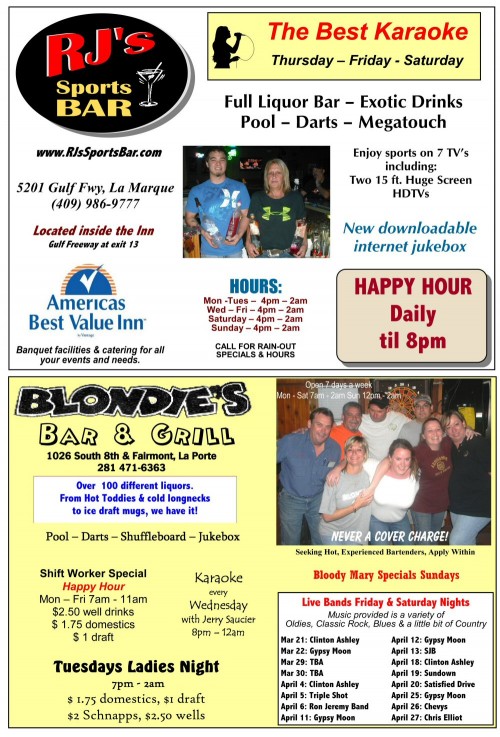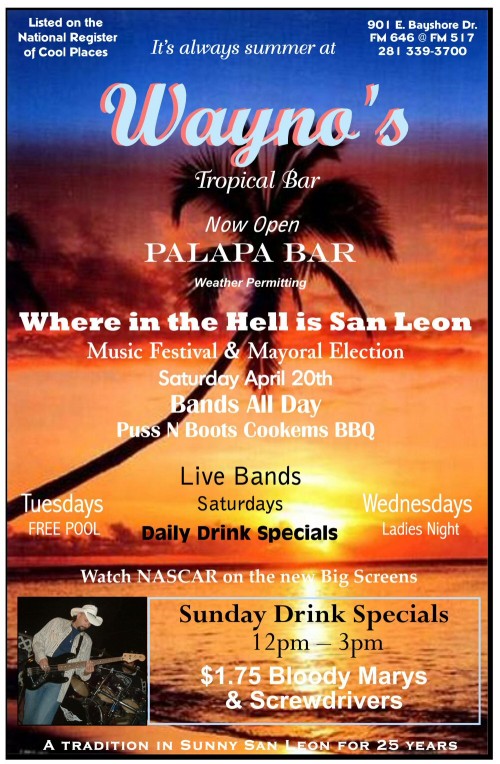 March 31, 2013 ·

Gator ·

Comments Closed


Posted in: Print Editions
Special Gator Press Exclusive: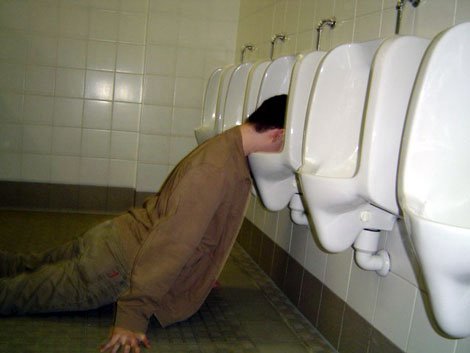 Drinks are to the drinker what hooks are to a hooker. You can buy them, which requires money. Or you may get other people to buy them for you, in which case you will be expected to perform bizarre sex acts afterwards while being filmed.
Some people have learned to obtain alcohol by simply stealing other peoples drinks; getting drinks on someone else's tab; or by appropriating abandoned drinks.
If you are too broke to supply your own drinks, you need to develop some kind of "act".
Musicians learned centuries ago that as long as they could make noise, they would drink free. Learn to play an instrument, tell funny jokes,  how to hula-hoop, or how to ignite farts.
Your new skill will pay off when it's time to drink!
I shouldn't have to mention that you are not going to have any fun drinking girlie drinks.  Any heterosexual man who drinks Zima, Hard Lemonade, or other sissy drinks should immediately switch to a more manly and powerful fuel.
If you're going to get properly smashed, you'll need a Designated Driver (pronounced "segregated shriver"). This is the person who remains sober and drives. Often, petty criminals work off their jail time by performing community service as designated drivers, so beware. Sometimes, others will nominate you for this task, which you must avoid. Repeat this mantra: "m-2 junka jive" and you will usually avoid this hated assignment.
Beware of bartenders, who will not serve you if you appear to be intoxicated. It is against Texas law to drink while drunk. Momentarily sober up when ordering, and speak clearly. You won't get served if you ask her to "fish me a nutty shrink". Look the bartender dead in the eye, and order in a deep voice, like John Wayne. Don't thay shings like thish.
Music usually sounds "bestest" and you can dance "gooder" when you're drunk. If there is a band playing, they will always respect your taste in music if you loudly shout for them to play something by Leonard Skinner, or CC Top. Most bands are happy to have intoxicated guys get onstage and sing, so feel free to get up there and set a good example. If you're at a karaoke show, dazzle everyone by spinning the microphones around by the cords. Don't select a song, pick something at random. Sing loud enough so everyone can hear you. Not everyone in the bar – everyone.
And don't sit down, stand up at the bar like a he-man. The drunker you stand there, the longer you'll get.
Here's a fun bar game to play: Remove one item of clothing after each drink, and encourage others to do so. By the time you are drunk, you will be almost naked. Once you are drunk and almost undressed, you might want to get laid, simply as a time-saving device. Do not attempt to get laid by a police officer when you have been drinking, unless you are into the whole handcuffs thing. Married people always make the mistake of taking off their wedding rings when they are on the prowl. That is plain stupid. Everybody wants to hook up with married people. That's why there's so much divorce.
Here is the best pickup line in the world for men to use: "Get your ass in the truck, we're leaving". I've been using that one for years, and like a good hunting dog, it always fetches.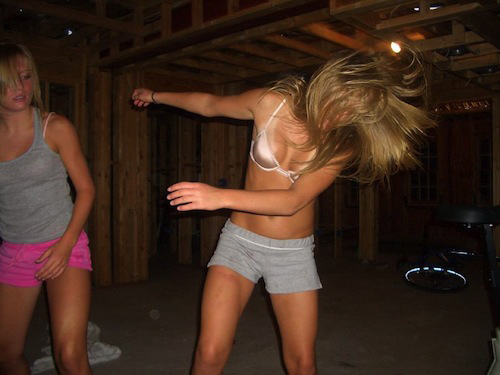 Women realize of course that drunk men are the best lovers, so they are pretty easy to get once you have a buzz. Have you noticed that when you're intoximicated, you're witty, intelligent, and a better dancer? Alcohol creates instant sophistication, although you won't be able to pronounce it. I have seen Jethro Bodeen turn into James Bond after a half a scottle of botch.
The most effective seduction advice for men is to keep giving her booze until she conks out. Scientific studies have shown that women often experience more erotic pleasure unconscious than they do while awake.
When two really drunk people have sex, it is always good. Of course, when nine drunk people have sex, it is incredible.
One of the primary objectives you must always remember is this: Stay out of the back seat of police cars. If you are driving, and a cop pulls in behind you, demonstrate that you are in complete control of the vehicle by swerving left and right a few times. Prove that your brakes are in good shape by accelerating and then suddenly stopping. Flash your lights and tap the horn a few times to show that everything is in working order. Remember: It is a known fact that the faster you drive, the sooner you will get there, thus reducing your exposure time.
If you do get stopped, feel free to tell the officer you're personal friends with Gator, and he had better back off. Try complimenting the officer, but in an indirect way, something like "your wife sure does have nice tits". Or, you could simply offer him $5 to just "forget the whole thing".
If you have any open alcohol in the vehicle, hide it somehow, as it makes police officers jealous. I usually conceal beer by pouring it into my bong. You can hide pints and half-pints underneath your pistol in your holster.
If you are walking, and get stopped for suspicion of public intoxication, you can easily prove you are sober by leaving the vicinity rapidly on foot. A convincing demonstration of sprinting, jumping, and climbing may convince the law to let you go on your way without any hassles.
Okay, assuming you got drunk, laid, and survived the trip home, your next consideration is the Morning After.
Hangovers are caused by drinking too slowly. A slow drinker kills brain cells slowly, and in their death-throes, they trigger throbbing headaches. Fast drinkers snuff these cells quickly, saving all this pain. If you are a slow drinker, at the end of the night, do about 3 or 4 shots quickly to mercifully euthanize these dying brain cells. You'll often wake up with no painful memories of what happened afterwards. If you do get up with a hangover, you need to kill these suffering brain cells off immediately with some more of the "dog that bit you".
Married people who come home drunk always make the mistake of sneaking into the house quietly. Make as much noise as possible – your rambunctious mood may be contagious. Maybe everyone will wake up and want to party with you! In fact, invite the folks at "last call" over for an after-party at your place.
The health benefits of alcohol are too numerous to be listed here, however, here are a few of the positive benefits of being shitfaced that many people do not realize:
Breast Size: Women who use alcohol more regularly are likely to have larger kazongas, and they will often display them proudly (see www.gatorpress.com).
Income: Nearly all serious drinkers are – or later become – or previously were – or have met – wealthy bastards.
Contacts: Drinking brings one into contact with higher echelons of society, including attorneys, doctors, judges, police officers, paramedics, and jail guards.
Appearance: Drinking is essential in improving your appearance. The more drinks other people have, the better your appearance will be to them. Use alcohol's beauty enhancing secrets to your advantage. Nearly all of the world's heterosexual men are ugly beasts.  This is the reason alcohol was created – so that intoxicated women might drink and either find us attractive, or else simply pass out at an opportune time.
If you have aspirations for higher office, and would like to be named "Town Drunk", I recommend starting with a smaller town than Houston, and working your way up. If you live in the city, start off as a neighborhood drunk and run with it.
Above all, be careful with booze. Never spill a drop.   GATOR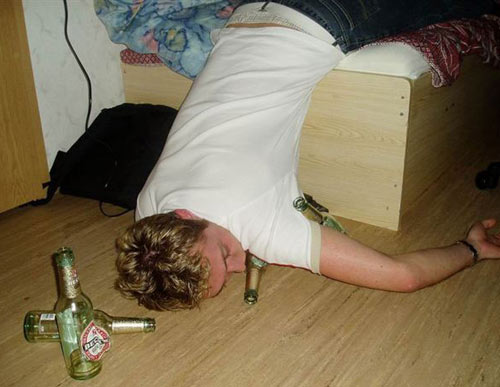 March 11, 2013 ·

Gator ·

Comments Closed


Posted in: All posts, Articles
We received this press release today from Webster Texas Police:
Webster Home Invasion
CASE # 13-00536
On Wednesday, March 6, 2013 at approximately 11:10 am, officers responded to the 18400 block of Anne Dr. in reference to a report of a "Man with a Gun".  Upon arrival in the area, officers located and detained one W/M suspect.  A second suspect (B/M) was observed leaving in a maroon colored truck. That vehicle was later contacted in Dickinson where he was taken into custody, along with a third individual who it was later determined not to have been involved in the crimes.
This incident started out around 4:30 am Wednesday morning as a "home invasion" where the suspects took the three residents; a mother, female teenage daughter and male juvenile son, hostage.  During this "home invasion", the two female victims were allegedly sexually assaulted by the W/M suspect. The W/M suspect was armed with a handgun but the B/M was unarmed. The suspects then tied up all three residents and around 8 am drove them to a field in Alvin. During the trip they stopped to buy two cans of beer at a store. They were then driven to a secluded area and walked into a field to be killed.  The W/M suspect gave the B/M suspect his weapon and told him to shoot the three hostages. The B/M suspect refused and since he had control of the weapon the W/M had no choice but to cooperate with him. The suspects then drove to another store and bought beer for themselves and soft drinks for the hostages. They then returned the victims to the residence on Anne Dr. to help dispose of any evidence left there.  At this point the male juvenile victim was able to get free and arm himself with a handgun, which the family had.  He then confronted the suspects who fled the scene.
With the assistance of several civilian neighbors the police officers, who arrived in less than one minute, were able to chase the W/M suspect several blocks where he was apprehended hiding in some tall grass next to a house under construction.
The B/M fled the scene in the W/M's truck abandoning him at the scene.  He then picked up a friend and went to a store in Dickinson to purchase more beer. A Dickinson Police officer observed the vehicle we had broadcasted as a wanted vehicle and detained it along with the two occupants for Webster officers.
The females were taken to the hospital and upon examination were found to be uninjured physically.
The Harris County District Attorney's Office has taken the following charges on the two suspects:
Jacobson, Charles Allen III Â Â 
DOB 01/24/1980
2 counts Agg Sexual Assault
2 counts Agg Kidnapping
Barnett, James Ellis 
DOB 01/11/1957
1 count Agg Robbery
2 counts Agg Kidnapping
COMMENTARY:
If those seeking to take away our right to own firearms for self protection had their way, this story would be titled "Family Found Slaughtered In Webster."   As long as guns exist, the "bad guys" are going to have them.  This incident clearly illustrates the need to own firearms and train the family how to use them.  Incidentally, if the family gun had been locked in any way, it would have been useless in this case.  It's a good thing the gun was there, that the kid knew where to find it, and that he knew what to do with it.  (GATOR)

March 10, 2013 ·

Gator ·

Comments Closed


Posted in: All posts, Articles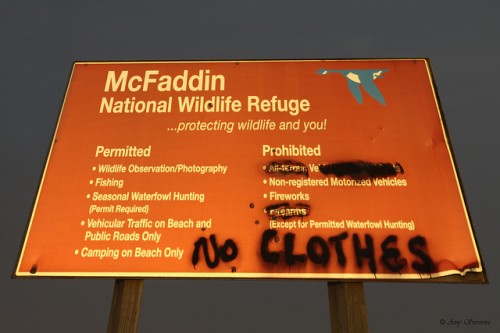 First, the back-story:
"MAY 9, 2011 Port Arthur News:
Chambers County authorities and the Texas Rangers are investigating a McFaddin Beach shooting to determine if a woman's death was a suicide or homicide.
Chambers County Deputies were dispatched to a shooting at McFaddin Beach on Texas 87 shortly before noon on Saturday, May 7, east of Texas 124 in High Island.
The shooting occurred along the one mile stretch of beach that is in Chambers County. Upon arrival, Deputies met with Galveston County authorities, who had received the initial 911 call.
According to two people in the area, they saw a black Ford four door truck driving in the area of the beach. The truck stopped for a few minutes, and then a gunshot was heard from inside the truck. A few minutes later a white male exited the truck, screaming that his wife had shot herself. The two people in the area did not witness the actual shooting, according to a press release from the Chambers County Sheriff's Office.
The victim was identified as Doris Blair, a 51-year-old white female, who lived in Magnolia, Texas. However, she had a Mississippi driver's license and family in that state.
Her husband, David Taylor, a 51-year-old white male from Magnolia, was the person with Blair at the time of the shooting, according to law enforcement. He was arrested on an unrelated warrant out of Walker County, Texas. He posted bond on the warrant the next day. Justice of the Peace Yale Devillier ordered an autopsy, but the results are pending.
Chambers County Sheriff Joe LaRive stated that his office, along with the Texas Rangers are conducting a thorough investigation into the incident to determine if this was a suicide or homicide. "It could take several days for the results of all crime scene evidence processing to be finalized."
Since then, I have found out the following:
1. Doris was planning to leave David Taylor and return to Mississippi the following Monday. He wanted her to stay, but she was steadfast. He had been physically abusive to her, and there are medical records and eyewitnesses to prove it. After meeting online, they eventually hooked up, then she came to Texas. At first things were fine, but then David starting getting "weird" according to a family member. He asked Doris to have a threesome with him and another female. He was reportedly drinking, and by one account doing some drugs as well. He sent her to the hospital once, but she later tried to cover for him. This relationship had turned bitter and angry on both sides, and a crash was coming.
2. Taylor told police he had no idea where the gun used in the shooting came from. "I never saw that gun before in my life." When I interviewed him, I asked "Do you know where she got the gun?" and he immediately told me he couldn't talk anymore and hung up. Well, as it turns out, the gun was reported stolen several years ago in a break-in one night up in a small east Texas town.  Coincidentally, Taylor was arrested in that same town on the same night the burglary went down. Did David Taylor steal that pistol, then use it on Doris? Or, did Doris, who had never been to Texas, come over from Mississippi one night and steal a pistol, six years ago, on the same night David Taylor was busted in the same town. Hmmm…
3. David planned the trip to the beach to try to reconcile things with Doris. But he took her to the wrong beach. Doris was a religious, old-fashioned kind of girl, and he took her to the "swingers beach" at High Island. When they got there late Friday, according to Taylor himself and another source he spoke with, they mixed up some drinks and set up camp. Soon they had a couple of topless lesbians walk up and initiate a conversation, which Taylor seemed to think was all good. But Doris didn't swing that way, and she wanted to be elsewhere. She copped an attitude.
So when bedtime came around, she slept on the ground in the tent, and David slept in the truck.
She was apparently more intent than ever on leaving him. The next morning she was dead.
4. Police have lost track of the two witnesses, but according to the police report, it was "several minutes" after the shot was heard that Taylor suddenly burst out of his truck, frantically screaming that Doris had shot herself. Why the long delay? Was he staging the scene? Wiping the gun? Disposing of evidence? Trying to come up with a story? Making sure she was dead? "Several minutes" is an awful long time when a person has just pulled out a gun and shot themselves.
5. Two months after the crime, family members came to Texas to say prayers at the murder scene. Guess what they found? Clothing and insurance papers that belonged to Doris Blair, inside a plastic bag, along with a sinister pair of rubber gloves. So apparently, Chambers County didn't do a very good job of processing the crime scene. Did they even test Taylor or his for gunshot residue? Probably not.
The only conclusion I can draw from this story is: If I ever decide to kill someone, I'm going to do it in Chambers County. That way I don't have to worry about cops, forensics, and prisons.  (GATOR)

March 9, 2013 ·

Gator ·

Comments Closed


Posted in: All posts, Articles
You are NOT allowed to like Hugo Chavez, the President of Venezuela who recently died of cancer.  You are not permitted to mourn his passing, or have any favorable opinions of him.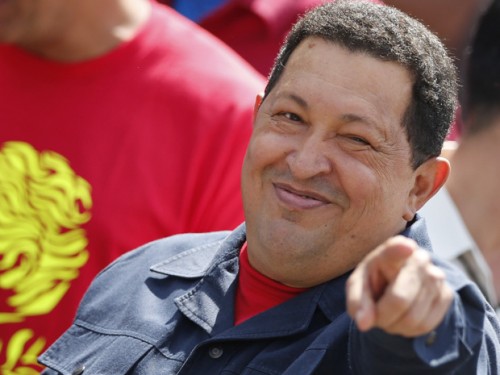 You must regard him as a dictator, an enemy of democracy, and a criminal.  He must be linked in your mind with Hitler, Stalin, and Saddam Hussein.  Chavez was a "bad guy" and that's the story you must swallow.
Never mind these pesky facts:
* In Venezuela under Chavez, the number of citizens living in poverty was reduced by fifty per cent. The number in extreme poverty was cut by seventy per cent. The poor were (for the first time ever) given access to public education and health care.
* With Chavez as the beginning, socially responsible regimes have become the new normal across South America.
* Hugo Chavez is the most popular figure in the history of South America since Simon Bolivar.
* Chavez was democratically elected three times, in landslides. This in spite of the tens of millions of dollars spent by the US and oil companies to support his opponents. The elections were "fair and square" and verified by the UN. The opposition did not claim electoral irregularities and conceded graciously in each case.
But somehow, we are supposed to hate the guy, even now that he is dead.
Why?
It's about the oil.
Venezuela is sitting on a reserve of more than one trillion barrels of oil, which is way more than Saudi Arabia has.
When Chavez came into office, his country was living in peonage. The average person was illiterate, malnourished, and oppressed. Hundreds of millions of dollars were being sucked out of the ground by Exxon, BP, Shell, and Chevron. They were allowed to keep 84% of the money they made from this resource.
Then, in 2001, Chavez and the Venezuelan congress cut that back to "only" 70%.  With the government's slice doubled, Chavez started to do something long overdue in Venezuela: He started building schools and clinics, and training people to staff them.  His efforts paid off, as the literacy rate soared and infant mortality rates dropped dramatically.
But the big oil guys were not happy, especially the Bush Crime Family and their associates.
So, they decided to do the same thing they have done many times in the past: Overthrow a democratically-elected government, and replace it with a right-wing dictatorship.
I am not going to go into the details of all of the cases in which the CIA has done this, but there have been successful coups (Allende in Chili, ) and failures (Castro) during the many years this has been going on. In the Congo, Indonesia, Ecuador, the Phillipines, and Iraq we have done this very thing.
So it was that we bought and paid for a plot to overthrow Chavez in 2002.
On April 11 of that year, President Chavez was kidnapped at gunpoint and flown to an island prison in the Caribbean. The following morning, Pedro Carmona, a business partner of the US oil companies and president of the nation's Chamber of Commerce, declared himself President of Venezuela – giving a whole new meaning to the term "corporate takeover."
US Ambassador Charles Shapiro immediately rushed down from his hilltop embassy to have his picture taken grinning with the self-proclaimed "President" and the leaders of the coup.
Bush's White House spokesman admitted that Chavez had been "democratically elected," but, he added, "Legitimacy is something that is conferred not by just the majority of voters."
After what happened in Florida, he ought to know!
The citizens were outraged, and marched on the capitol, demanding the return of their elected president. With an armed and angry citizenry marching on the Presidential Palace in Caracas ready to string up the coup plotters, Carmona returned his captive Chavez within hours.
Did Chavez then execute the plotters, lined up against some adobe wall? No, he proved to be more civilized than they were. He declined to extract retribution, and simply went on with his plan to make life better for the people of Venezuela.
Chavez had provoked this takeover plot not just by reducing some of the bloated royalties of the oil companies. It's what he did with that oil money that drove the oil barons and the wealthy Venezuelan elite to accept the CIA plot to overthrow the government.
80% of Venezuelans are negro e indio (Black and Indian) and poor. Chavez, himself negro e indio, had, for the first time in Venezuela's history, shifted some of the oil wealth from the privileged class that called themselves "Spanish" to the dark-skinned majority.
Chavez' shifting of oil money from the rich to the poor would have been grudgingly tolerated by the US. But Chavez went even further.
Venezuela had millions of acres owned by a tiny elite group of plantation owners. The vast majority of citizens never owned land, and never would. Chavez' congress passed a law in 2001 requiring untilled land to be sold to the landless. It was a program long promised by Venezuela's politicians at the urging of John F. Kennedy as part of his "Alliance for Progress."
The largest of the landowners, the Heinz Corporation, didn't like that one bit. In retaliation, Heinz closed its ketchup plant and fired all the workers. Chavez then seized the Heinz' plant, paid Heinz the appraisal value, and put the workers back on the job. Chavez had just pissed off America's powerful Heinz family and Mrs. Heinz' husband, Senator John Kerry, now U.S. Secretary of State.
Then he did something that really pissed off the Bush administration. In 2006, his goverment started allocating 10% of their refinery production (Citgo) to a program that helped poor people with reduced prices on heating oil… in America! The program cut the cost of needed heating oil by 40% during a crisis, and the program continues to this day. The problem is, there were a bunch of high rollers who were making rapacious profits off the high price of heating oil. There were hundreds of millions tied up in the oil futures market. While Chavez' generosity might have helped some poor Americans keep warm, it was a major fucking for a few important people on Wall Street.
Those are some of the reasons our CIA and the big money guys wanted to knock him off.
Before Hugo Chavez, the citizens had no land. They had no public education. They had no health care. They had no voice in their government. They lived lives of misery and poverty, except for a few wealthy elites.
After Chavez, Venezuela has a thriving economy. There are schools and clinics all over the country. Unused land is being bought by the former serfs, and is being cultivated. The gross national product has doubled. Everyone has a vote. Electricity, plumbing, clean water, and other advances are reaching every corner of the country.
Simon Bolivar is regarded as the "George Washington of South America."  If this is the case, then Hugo Chavez is the Abraham Lincoln of South America.
But we must hate him.
We must always hate him, because that is what we have been told to do by those who control what we are allowed to think.  (GATOR)

March 7, 2013 ·

Gator ·

Comments Closed


Posted in: All posts, Articles
Spring's in the air, and sunny San Leon is gearing up for several visitors to descend on its bars for spring break 2013, which officially kicks off March 9.
"Spring break is usually a good indicator of how our summer tourism season will go, so it's very important to San Leon for that reason," said Mayor Keith Heinz. "There will be a couple of college kids who get lost on their way to Galveston, but it's not the big college parties that you see in others areas like Galveston or Alvin.  Mostly we get the hard core drinkers and two or three beer drinking fishermen."
Meanwhile, local drinking establishments are sprucing up in anticipation of the annual rite of spring, and for good reason: the weekend translates into a few extra bucks.
During last year's spring break, San Leon's bars generated $2.4 thousand in revenue, a 22 percent increase from 2011, according to the mayor's office.

March 7, 2013 ·

Gator ·

Comments Closed


Posted in: All posts, Articles
The Regional DWI Task Force will operate on the nights of March 8-9 and March 15-16 to make arrests for driving while intoxicated (DWI) and earn overtime pay for patrol officers.  These weekends cover spring break week in our area but will also cover rodeo activities and the St. Patrick's Day weekend.  This is the second enforcement wave for this Task Force, which is comprised of multiple agencies from around the Houston-Galveston area.  This initiative provides overtime funds for agencies to provide enhanced DWI enforcement during holiday weekends.
Up to 50 additional officers will be out each night looking specifically for drunk drivers. By "drunk" we mean those who have a BAC of .08 (which is two beers).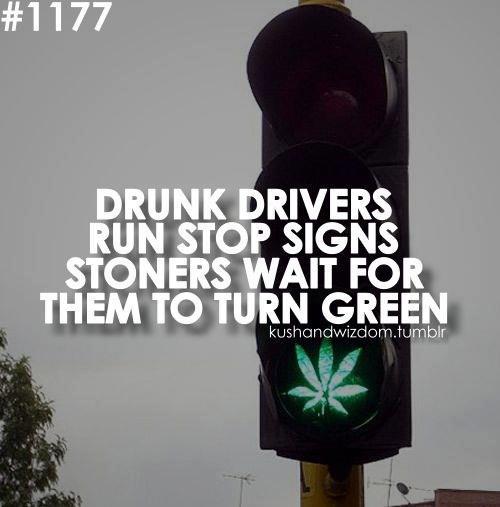 During the Christmas/New Year's enforcement period, 46 officers from 13 agencies made 64 DWI arrests and gave out over nearly 250 traffic citations.
In addition to the Task Force, the DPS will also be out in force thru March 17th.  Last week the DPS announced that they would add additional patrols aimed specifically at impaired drivers.
During last year's Spring Break enforcement period, DPS troopers made more than 1,000 DWI arrests, and approximately 300 were the direct result of the increased patrols funded by the grant.  DPS enforcement also resulted in more than 9,400 speeding citations, 1,500 seat belt/child safety seat tickets and 12,500 other citations. In addition, troopers made 545 fugitive arrests and 402 felony arrests during routine patrol operations.
Convicted first-time DWI offenders can pay a fine up to $2,000, serve six months in jail, lose their driver's license for up to a year, and pay an additional $3,000 to retain their license once they get it back.
Officials say costs associated with an impaired driving arrest and conviction can add up to more than $17,000 for bail, legal fees, court appearances, court-ordered classes, vehicle insurance increases, and other expenses.
Be careful out there!

March 7, 2013 ·

Gator ·

Comments Closed


Posted in: All posts, Articles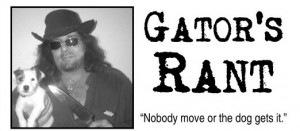 Another Mardi Gras has come and gone, and it continues to get stupider (is that a word?) every year. This year, there was a "riot" that was quelled by brave police officers.
The fracas erupted while police were "clearing" the streets at 1:00 am, as they have been instructed to do on Friday and Saturday nights during Mardi Gras.
Officers,  some on foot, some mounted on horses and motorcycles, all armed, and    wearing riot gear advance like soldiers in a skirmish line down the street, sweeping away all people in their path. Any resistance means arrest or worse. That's how Mardi Gras is done in G-Town by the Sea . It's as if the City and those who are getting rich off the event are saying "Thanks for the money, now get the fuck out, right fucking now!"
They don't do this in New Orleans.  The only time they clear the streets there is at midnight on Fat Tuesday, when the Lent season begins. On the weekends, the party goes on until dawn. That's how the real Mardi Gras works.
They also don't have a cover charge in Nawlins. They also haven't harassed all the bars out of existence, so there are cool places to pop in and hear some music or buy a drink. All of which is why the Galveston Mardi Gras is a piss-poor imitation. Anyone who has been to the Crescent City for Mardi Gras will agree.
So, what about this alleged riot?
Well, police advanced on a group of people who were waving a large American flag, chanting "U-S-A, U-S-A!"
Some in the crowd threw beads. The police fired tear gas or pepper spray grenades into the crowd. Bottles were thrown. Seven were arrested, including Zach Flanagan, who had the misfortune to be leaving "The Lounge" at the time the melee occurred.
"The police beat the crap out of me for no reason. I walked out of The Lounge and had no idea there was a riot happening outside. The next thing I know, I am being slammed to the ground by a cop. He slams my face into the concrete, puts me in hand cuffs, and almost breaks my arms as he is lifting me up off the ground by my handcuffs. I did absolutely nothing wrong. I was in the wrong place at the wrong time. I got arrested. I was one of the seven. Now I have to go to court and pay for a lawyer."
All of the media have praised the police and the event for how well they handled the rowdy partiers, and the handwringers are all worried that these miscreants are going to hurt tourism in Galveston.
Let me say this:
I paid for myself and my wife to get into this event, which closes down public streets (which I paid for) for the benefit of private businesses. I also paid to park. Then I spent my money to have a good time.
So, under what Constitutional authority do the police and the event operators tell any adult that he cannot be on any public street at whatever hour he chooses?
When did they become the owners, and when did we become the cattle?
That is my fucking street. It does not belong to the City of Galveston, the State of Texas, or the United States of America, it belongs to We the People. It sure as fuck does not     belong to the organizers of this watered-down ersatz version of Mardi Gras.
This "riot" did not start until the police started advancing on the crowd, who were doing fine until the goon squad showed up.
The people in that crowd probably thought it was very un-American to be forced off public property where they were peacefully and lawfully assembled. I agree.
I'm not upset with the Galveston police. They just do what they are told to do. If they are told to clear the streets, they will do so. But whoever came up with this bright idea is a goddamned Nazi, and this is their fault.
If the powers in Galveston want Mardi Gras to be "successful", they need to deregulate it. Get the City and the politicians out of it.
Do what they do at the real Mardi Gras and Let the Good Times Roll. Get rid of the cover charges and the strip searches.
And for christsakes, stop trying to make an adult party event into some kind of "family friendly" tourist attraction!

February 23, 2013 ·

Gator ·

Comments Closed


Posted in: All posts, Articles
County Court Judge Christoper Dupuy has emerged as the best entertainment in town. From one day to the next, you just never know what his next zany caper will be.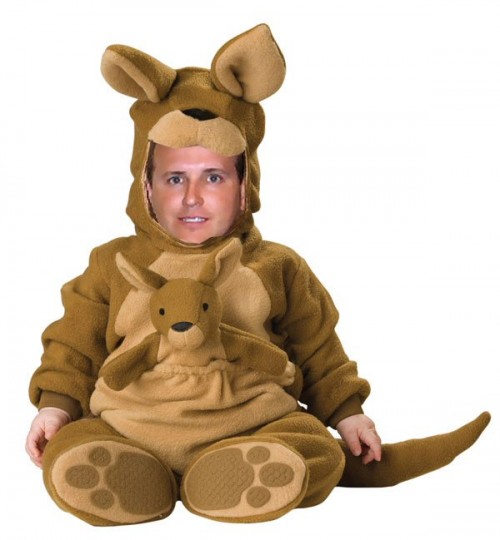 At the time he was running for office in 2010, he was serving probation from the state bar association for professional misconduct. He is named in a $500,000 fraud and malpractice lawsuit that accuses him of engaging in conduct that resulted in hundreds of thousands of dollars of damages to his own law clients. Stemming from that suit, a judge ordered Dupuy to pay $7,500 in sanctions and accused him of filing motions for the purpose of delay and without sufficient evidence. He was even sued by his own uncle for not paying back a   personal loan in the amount of $25,000!
Shortly after the sanctions, Dupuy filed bankruptcy, his second such filing since 2004.  In the latest bankruptcy filing, the judge listed $299,772 as the amount owed to creditors. That included fees from attorneys, credit card companies, four civil suits, two foreclosures, two repossessions and two student loans. The bankruptcy was dismissed in December.
Dupuy was removed from a divorce case last fall in which one of the lawyers had been the attorney for Dupuy's ex-wife in the couple's divorce case. Dupuy threw the lawyer out of court, then reportedly questioned his client.
An appeals court recently reversed Dupuy's judgement in a lawsuit, awarding over $600,000 to a plaintiff in a suit against Del Monte Fruit. In a separate case, the appeals court  also reversed his judgements in a case involving Citibank.
Then last month, Judge Dupuy tried to have attorney Lori Laird thrown in jail for filing a motion asking that Dupuy be removed from a divorce case. Laird stated in the motion that Dupuy was prejudiced against her, and that she could not get a fair shake in his court.
Her motion gave reasons why she felt compelled to seek a change. Dupuy was so angered by the filing that he leveled charges of criminal contempt against Laird.
A few days ago, Laird's case came to court. In a strange "star chamber" hearing, no one from the District Attorney's office presented charges against Laird. The DA's table was unoccupied.  There was a district attorney there, but he sat in the spectators section, apparently there just to enjoy the show. Not to be undone by the lack of a prosecutor, Dupuy himself charged Laird with criminal contempt. Since there were no witnesses, he also testified that Laird's motion to recuse was proof of criminal contempt. He invited her attorneys to answer the charges, but they responded that there were no witnesses to cross examine, and that no proper case or admissible evidence had been presented. Dupuy didn't let that stop him. He held Laird in contempt and recommended 110 days in jail. Laird was not jailed, but was released on personal bond according to state law. Her sentencing, if any, must be imposed by a state court judge.
Also last month, the judge asked the County Commission to replace the administrator of the county justice administration, Bonnie Quiroga. For her part, Quiroga said that Dupuy was retaliating against her because of "actions taken by me and my office with regard to possible wrongdoing, including making inappropriate purchases on the county-issued credit card, discussions regarding abuse of judicial authority, bullying and intimidation, retaliation toward both female employees and female private attorneys, security violations, misuse of county equipment for personal use, and assisting a litigant and use of common areas of the courts building for non-court related matters."
Meanwhile, the District Attorney is investigating claims that Dupuy used software and/or equipment belonging to the county to help his girlfriend with a child custody case.  State law defines such activity as Abuse of Official capacity.  Dupuy has been dating the woman, who is a dental hygienist and is not represented by an attorney in the custody case. Legal documents sent to the other party's attorney from her were allegedly faxed from a phone number used by Dupuy in his official capacity.
Depuy seems to think it's all a massive political conspiracy. "The political disruptions of my ex-wife and her attorneys are nonsense," he said. "Every reasonable attorney in the county knows it. Indeed, the facts and evidence have always shown that every political allegation made has never had any factual basis. I'm not calling these handful of people   liars, just that they have an awful hard time being truthful."
And the clown show continues. Maybe I will be arrested for writing this article…

February 23, 2013 ·

Gator ·

Comments Closed


Posted in: All posts, Articles