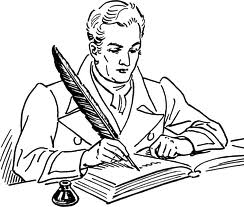 The other day I somehow found myself at a web site called poetry.com. Apparently, the literary giants who operate Poetry.com are looking for the best poetry to publish. Just for the hell of it, and fully knowing there was some kind of scam involved, I dashed them off a quick poem, and submitted it to their contest under the pen-name "Shirley Zapinas".
Here is the poem I submitted:
Taco pants sat on a dog yesterday…
Every now and then I am the moon
solemn and obscure behind a potted plant
with those few brave souls who can swoon
without ever leaning over at a slant.
So I must cop a baggy by hook or crook,
send bolts of lightning with a glance;
or else shut up and read a book
written by a fat man wearing plaid pants.
Perhaps I will stop speaking and scream,
walk to the edge of the sea of greed,
where pretentious poets still dream
of being published in a book none will read.
And if perchance these verses be chose,
if having words published be my luck,
then shall I remove all of my clothes,
cry out loudly that I could give a flying fuck.
if the price of the book they make is cheap
and cost me not my final dime,
then a dozen copies I shall buy and keep,
to make me laugh from time to time.
(Shirley Zapinas)
Just imagine my surprise when the Poetry.com editorial staff contacted me via email one day later to tell me that "Taco Pants Sat On A Dog"  had won their prestigious Editor's Award, and would be featured in an upcoming book they are about to publish!
"Dear Shirley" the email said, "Your unique style and message impressed our editors, and we have selected your work to be published immediately… We are sure you will want to reserve at least a dozen copies of the upcoming book at the reduced rate of $59.95 each – they make excellent gifts."
Some investigating turned up the fact that each book they print has about 600 poems in it. That translates to over $400,000 in sales for a press run of  7,000 copies.
The cost of the printing is about $4,000, so they can't pay any royalties, but at least I will become a published author, and can sell my future poetry for millions.
My career as a poet is just getting started.
I have also been invited to attend the annual and prestigious International Poetry Writers Convention, a 5 day / 2 night event in Glen Falls, NY. All expenses are included (except air fare, meals, and lodging) in the $600 per person (double occupancy) fee.
So, for just $1,200 plus expenses, I can be there, hobnobbing with all of the top poets from the US, Canada, and other major cities.
Too bad I used the Shirley Zapinas moniker. If only I had used my real name… Now, I can't go – although the editors assure me that the other poets are eagerly looking forward to meeting me (actually Shirley) for networking and socializing.
In the meanwhile, I'm going to have to buy at least a dozen books to "help cover  publishing expenses" or else Taco Pants is going to have to dismount his dog and sit on the sidelines.
I never knew becoming a famous poet was going to be so expensive, but that doesn't matter. The main thing is that my talents have finally been discovered after all these years.